BACK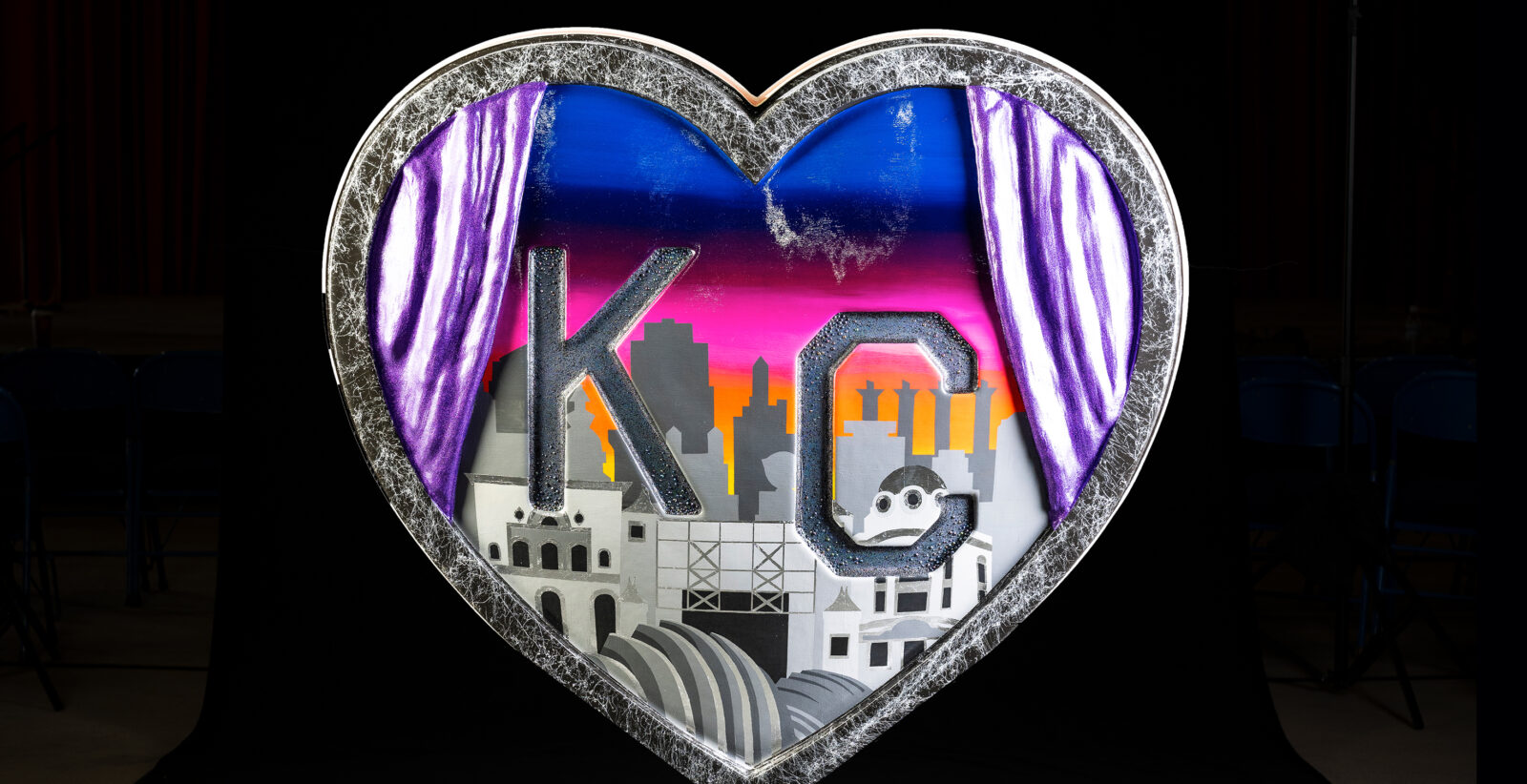 Arenas of Histrionics and Humor
Fran Kapono-Kuzila
Downtown De Soto - Sunflower Mural
View Artist
The live entertainment industry was one of the hardest hit during the peak of the pandemic. Nearly every production company, venue, even educational facilities fell into unexpected darkness. Countless theatrical professionals, students, and hobbyists were filled with uncertainty, dread, and loneliness. The reemergence of performance art in Kansas City has restored the refuge and freedom of expression so many of us lost. Kansas City has numerous opportunities for performers, production staff, and patrons to escape the everyday routine. Every single studio, theater, production company, and venue, and the people associated with their successes deserve to be recognized and celebrated.
The front of the heart features 4 iconic Kansas City theaters. While Starlight and The Kauffman Center for the Performing Arts are instantly recognizable the other two are historical gems tucked away in the beautiful Kansas City skyline. I felt it was important to recognize these two theaters specifically as they were the genesis of theatre in Kansas City. Built in 1900, The Standard Theater (presently known as The Folly Theater) is Kansas City's oldest theatrical venue. Additionally, The Empire Theater (built in 1921 and presently known as The Mainstreet Theater),is recognized alongside The Folly on the National Registry of Historic Places.
What we chose to do with the edge of the heart was not included in our original submissions so getting to design this extra element was an unexpected opportunity. Adding decorative molding to the raised portion and replicating black marble I hoped to evoke memories of the elaborate interiors of the historic theaters still thriving in Kansas City (The Folly, The Midland, and The Music Hall et.al).
The back features a list of local production companies, venues, and organizations prominent in Kansas City, on top of a field of red roses. While not only a beautiful flower, the throwing of roses on stage is a time-honored tradition to express love, gratitude and appreciation to performing artists. It is perhaps the most public and visible way of saying "thank you" to an artist for a superb performance. This tribute is my way of "tossing a rose" to each and every person involved in Kansas City theatrical arts.
Heart Sponsored By