BACK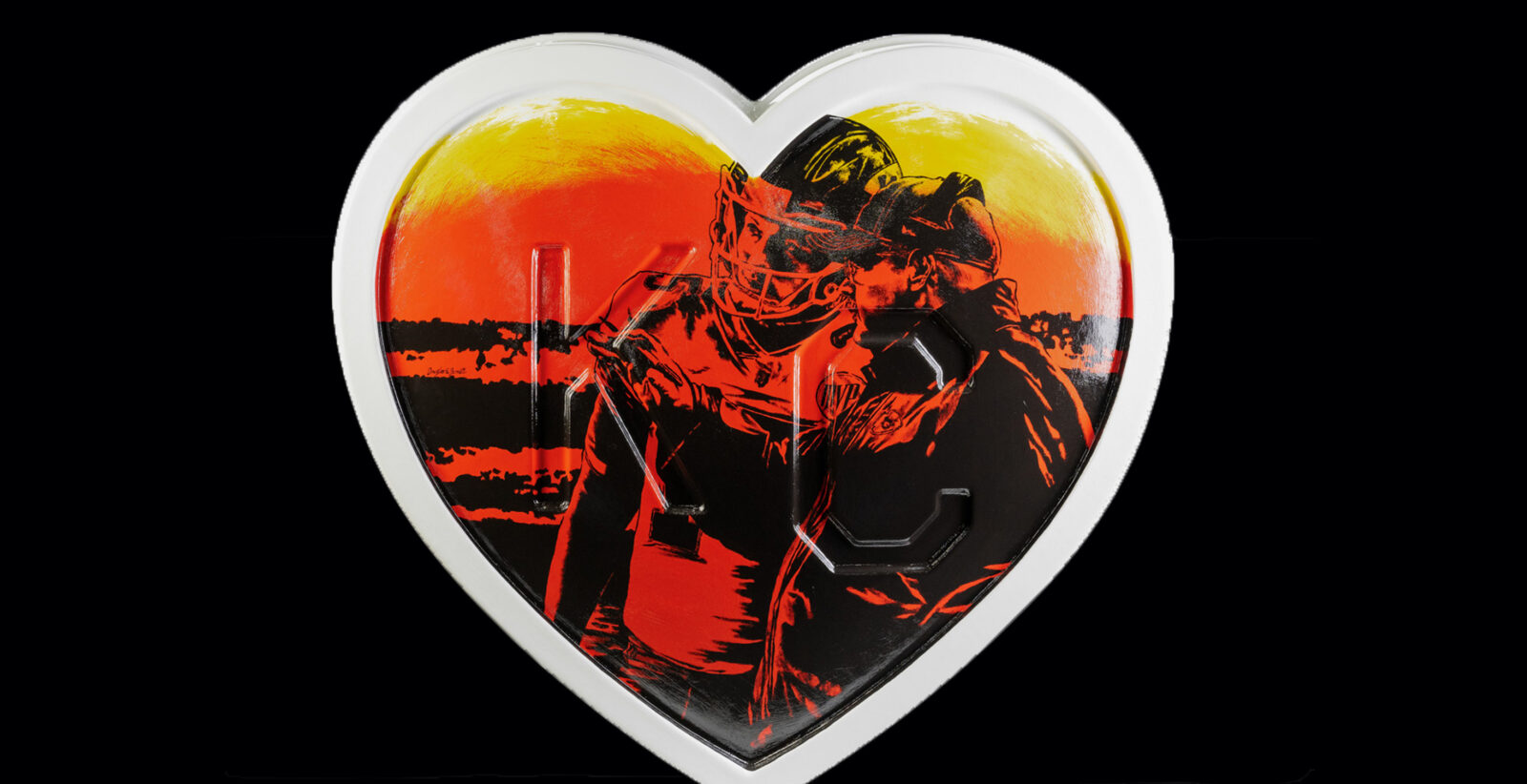 Remembering the Past – Celebrating the Present
Doug Bennett
Olathe Medical Center
View Artist
I have lived in the Kansas City area since 1981, and have been a professional artist for over 40 years. Two of my greatest enjoyments are art and sports. So, getting the opportunity to combine these two loves for the Parade of Hearts, is a dream come true.
I remember being a 12 year old kid watching the Chiefs in the 1970 Super Bowl, (and yes, it does mean that I'm old). However, I was not a Chiefs fan at that time, and didn't appreciate what a wonderful and rare event it is, to win the Super Bowl. Eventually I became a true and life-long Kansas City Chiefs fan when Coach, Marty Schottenheimer and linebacker, Derrick Thomas joined the Chiefs.
All of us Chiefs fans have witnessed many epic victories and many heart-breaking defeats. But, we have always stayed strong and have always stood behind our Kansas City Chiefs. And for the past six years we have been rewarded with some of the best times ever to be a Chiefs fan.
We thank all the former players, coaches, staff, administration and owners who have brought us so much joy and wonderful memories.
So, I felt compelled to paint two images that would pay tribute to the great past history of the Kansas City Chiefs and the present Chiefs.
Of course, there is no way to honor every single Chiefs player, past and present, on a heart. So, I decided to represent the past by painting Coach, Hank Stram and the late, great, Len Dawson on the sideline, during the first Kansas City Chiefs Super Bowl victory. And on the other side of the heart, I chose to paint, Coach, Andy Reid and Patrick Mahomes discussing a play during this year's Super Bowl victory.
I consider it a great honor and pleasure to design and paint these four iconic figures to represent the Kansas City Chiefs, the Parade of Hearts, and the entire Kansas City community. These four Chiefs and a plethora of other great players and coaches have had a huge and positive impact on bringing the Kansas City community together as one great CHIEFS KINGDOM. We will forever be in debt to Lamar Hunt and the Hunt family. For everyone in the Chiefs Kingdom, I say, Thank You!
In closing, I would like to say to everyone who views this heart. I hope it will evoke a few emotions. Maybe a smile. Maybe a fond memory or forgotten story. Maybe a laugh or two. And yes, even a few tears of sadness, but hopefully more tears of joy. I would once again like to thank the Parade of Hearts for giving me the opportunity to express my love of art and my love of sports to the great city of Kansas City.
Heart Sponsored By